The expertAccounts POS System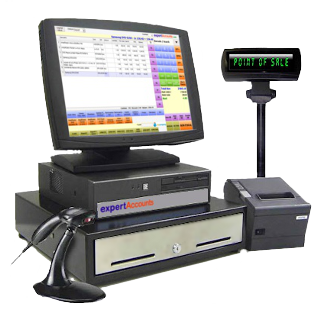 ExpertAccounts.com offers the software part for your POS, which connects your shops with your headquarter, in a
modern "corporate" style of retail
:
Works on touchscreen, with bar code scanner and cash receipt printing
Promotion catalogs by shop type and period of validity

Price rules, including promotions type "N+1 free".
Registers cashier's and vendor's name, at each POS sale
Allows multiple, configurable payment

Works both online and offline – ideal for multiple shops (retail chain)

Natively integrated with the loyalty card system
Provides multiple reports analysis
Provides an advanced system for internal fraud prevention

In order to maximize your sales, having an optimal stock, so that your customers can always buy what they are looking for from your shops, is a key factor that can ensure success in the retail market. ExpertAccounts developed a complete system, that ensures an increased efficiency of retail business: electronics, clothing, food and pharmaceutical industries. The system can be used both for organizing and coordinating with a central warehouse as well as for Retail outlets that receive items directly from suppliers.

ExpertAccounts is a tool that improves efficiency at every level:

control of everyday activities, in order to make the best decisions, in real time
real-time communication: once data was entered, it becomes available to all users that have access
Retail Chain Logistics


✔ Set the minimum stock level by shop type
✔ Automatically generate branch transfer orders and purchase orders
✔ Track the missing items during transit, until the reason and person responsible are identified
✔ Cut operational costs
✔ Helps to boost your sales
✔ Makes you save time

Advantages:
Inventory stock optimization

Automatically calculates, for every item, the quantity that needs to be ordered in every shop, based on stock, sales and optimal stock level, so you can effectively control and plan your stocks.





Shop re-order automation

Automatically generates branch transfer orders and purchase orders, based on optimal stock.
Automatically generates purchase invoices and supplier delivery orders, based on orders.
Based on the Transfer D.O., the destination stock keeper will electronically confirm the goods received, specifying if there are any missing items.
The staff in charge with purchases and stock replenishment has the ideal tool, that automatically suggests what needs to be done.



Identify fraud


Provides a full picture of the items' route: the person in charge with delivery, driver's name, the person who confirmed the receipt, date and time of delivery, date and time of purchase invoice.
So, you have all the necessary information to identify exactly WHERE and WHEN the loss occurred and WHO is responsible.
Features:
Grow efficiency in working with many shops, through goods' transfer between branches automation and shop's sales planning.
It allows centralized control of prices for each shop, with different price and article catalogues for each shop.
Automation of supply procedures of the retail network and forecasting the sales for each shop.
Shop POS barcode scanning sale procedure with no need of keyboard input. Barcode labels generation for articles not bearing such labels.
The sale can be concluded with cash-register receipt or with a printed invoice. It can store loyal customer card code and salesman's name.
Shop re-order automation:
First, the store manager submits online the "POS Order". It can be manually introduced, or generated automatically based on the sales forecast.
At headquarters, the delivery note is generated for each shop, based on the pending POS orders.
During the transport, the goods are tracked for each route until they are received at the destination.
Delivery Note Receipt in the shop: the shop manager will check the quantities of goods, and submit the validation as an electronic signature. The Entry Note is automatically generated
How does the Retail Chain Logistics module work in expertAccounts ?