For distribution, retail and manufacturing companies, ExpertAccounts provides an intelligent WMS ( Warehouse Management System), compatible with GS1 international standard. The WMS system allows inventory optimization: helps you track and automate inventory operations and find differences between the "book stock" and the stock on hand.

Why ExpertAccounts WMS ?
The main advantage of the WMS solution is that it is part of the ExpertAccounts ERP, as an add-on module, not a separate application, avoiding problems of integration between different applications, the main cause of the inefficiency of other systems. This makes implementation more quickly and easily.

Everything works perfectly integrated on the same platform: online shop, orders from field agents (SFA), inventory management and logistics (WMS), pricing policy and promotions, invoicing and accounting.

ExpertAccounts WMS System always gives you accurate, real-time information about stock in warehouse and provides seamless communication between warehouse staff, executives and managers. If you have multiple branches, you can control all of them, in real time and without any extra cost.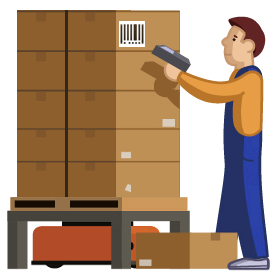 ExpertAccounts WMS
✔ Organize your warehouse
✔ Reduce delivery time
✔ Eliminate mistakes
✔ Supervision and control of warehouse activity
✔ Reduce logistics costs
✔ Quickly track down differences between the records and stock on hand

Integrated with accounting - automatically generates:
✔ receipts, delivery or transfer

Centralized control of branches without any additional cost :
✔ if you have more branches, you have online information, in real time
Advantages:
Boost your sales and
enhance customer service
No more delays: WMS provides on-time delivery, in order to increase customer satisfaction
Fast and accurate
order processing

No more paperwork: no more lost papers, picking is done on mobile devices

Real-time acces to stock status
With WMS you know instantly how much inventory exists in your warehouse
Reduce picking time
Regardless the size of the warehouse, selection and collection of the goods is done easily and correctly with mobile devices, not on paper.
More efficient use of warehouse space
Having well-organized merchandise in your warehouse, you can store a larger amount of goods in the same space.
Reduce loss

Reduce the amount of expired goods - outputs are performed in FIFO (First In - First Out) or FEFO (First Expired - First Output) order
Integrated with accounting
Automatic registration of all documents: receipt, delivery, transfer etc.
WMS suitable for manufacturing
Allows you to track traceability of goods
Features:
Integrated with supply chain and orders, the WMS system covers all processes in the warehouse, while tracking the rack location, lot numbers and multiple packaging units: receiving goods (Check- In), placing the goods in the racks (Put-Away in racks), stock-take, transfers, package assembly, delivery orders to customers (Picking from racks).

Goods Receipt - recording the delivery order received from the incoming lorry driver, based on the purchase order.

Check-In - each delivery from the supplier will be scanned with barcode readers when reaching the warehouse.

Put-Away - Placing the goods in racks - the system automatically tells you the available locations (racks) where to place received goods.
Stock-take - by scanning barcodes (product, batch, serial numbers, rack), with mobile devices with barcode scanner (or with a scanner connected via USB or Bluetooth to a tablet).
Transfers between locations/racks or warehouses.

Picking - Delivery goods from the warehouse - based on registered orders; picking is controlled from the back office - the system tells you from which batch and location you have to pick the goods; for larger orders, the system allows more employees to do picking at the same order. The system allocates the necessary stock for each order.
Check-Out - optionally, another check can be made, through scanning goods before loading them in the truck or handling them to the courier.

Manage eficiently your warehouse with ExpertAccounts WMS !